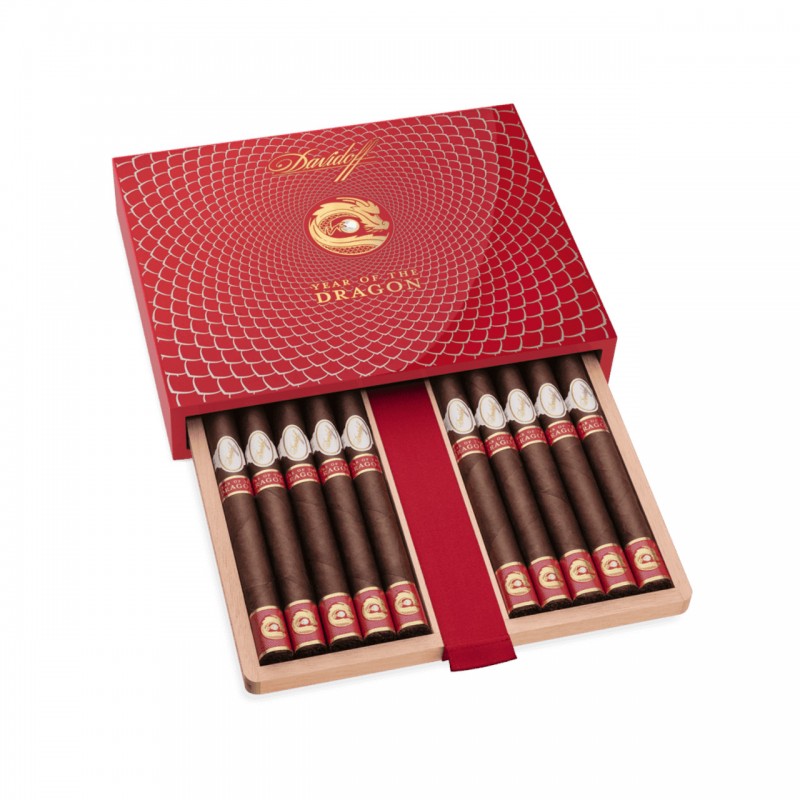  
Davidoff Year of the Dragon Limited Edition 2024
For the twelfth consecutive time, Davidoff releases a limited edition to
celebrate the Chinese New Year in style. With this release, Davidoff for the first time completes an entire zodiac
cycle which began in 2013 with the Snake. Today, a few lucky aficionados get the opportunity to celebrate with an
edition dedicated to this special zodiac.
The limited-edition double corona is composed of 8 different tobaccos from the Dominican Republic, Nicaragua,
Mexico and Ecuador, which in total have a combined age of 60 years. The cigar surprises aficionados with an
uncut foot, meaning that the first inch (2.5 cm) of the cigar is to be enjoyed without the wrapper. This requires
utmost precision in not only rolling but also blending. Despite the absence of the wrapper, the beginning of the
cigar is very enjoyable and exemplifies a high skillset in craftsmanship, as the Master Blenders managed to create
an intriguing switch in taste and sensation as soon as the wrapper leaf comes in with added depth and complexity
of flavours. The foot thus depicts the Dragon's untamed personality in its taste, and also its appearance, as it
visualises the Dragon spitting fire.
The double corona starts off with earthy, wooden and herbal notes. Once the wrapper takes over, the taste
changes to rich notes of roasted nuts, cream and subtle liquorice. The intensity rises in the second third, when
notes of sweet honey, white pepper and citrus dominate. In the cigar's final third, fresh spice and oak wood
complement the dominating notes of dark chocolate. With its medium intensity and an enjoyment time of 90 to 100
minutes, the cigar is ideal to fill special times beautifully for those born in the Year of the Dragon.
Format: Double Corona
Ring Gauge:50
Length [in]:7 1/2"
Smoking Time: 90-100 Minutes
Specific References
ean13

7623500505634